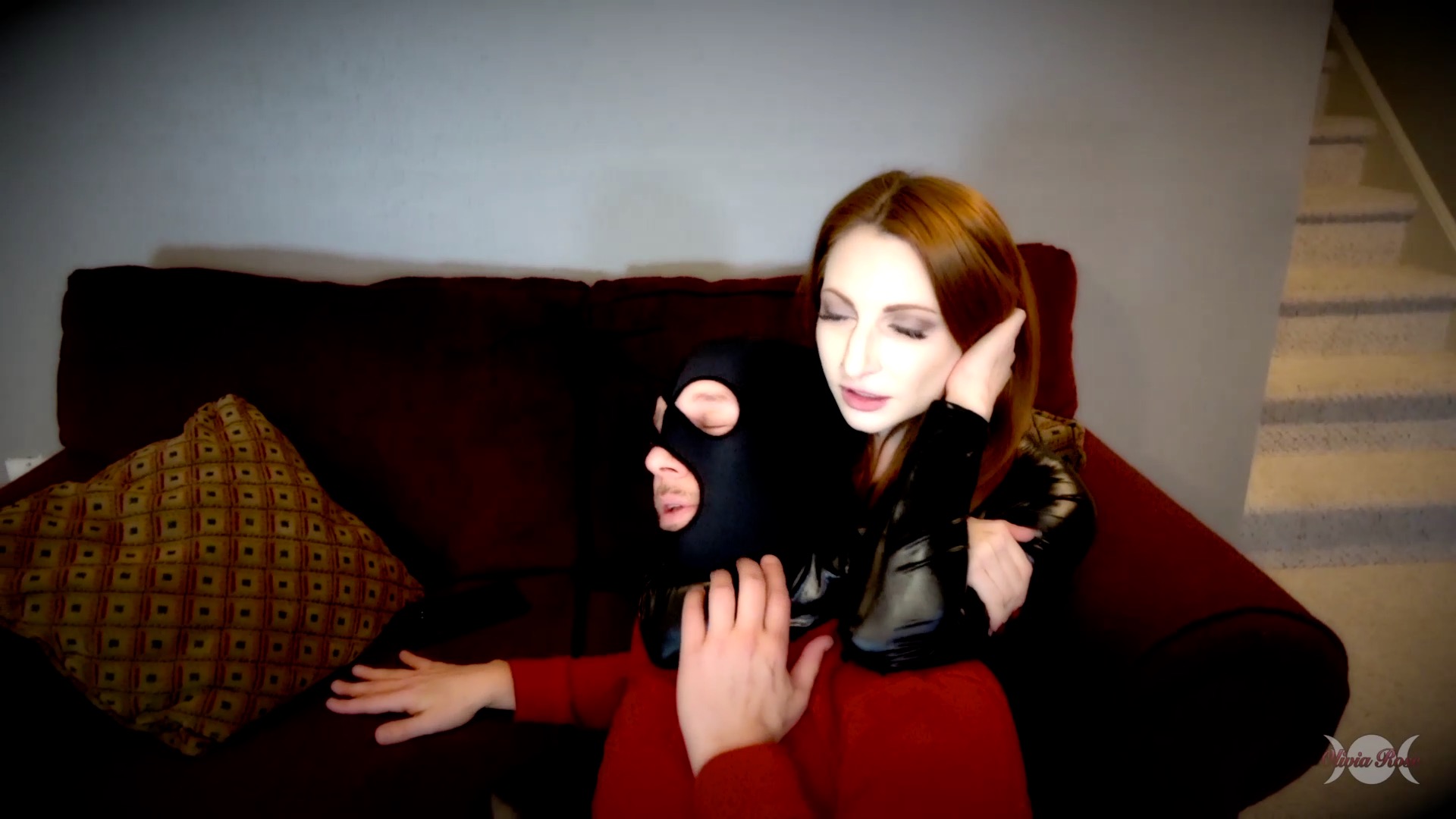 Hello, Pets,
Greetings from my office! I hope all of you are finding yourselves well in this very uncertain time. I have been home for 25 days now and just left my neighborhood for the first time since self-isolating! It is very surreal, this whole pandemic. When entering 2020, I was hoping to travel more and shoot with more models, create more new content and just have a bunch more kinky fun, but all plans are on hold, and I am waiting this out with the rest of the world. While I won't be working with any new models, I will be continuing to give you quality kinky content that you can continue to enjoy over the weeks ahead. I am beefing up my production game, and have a few tasty morsels of fetish goodness I am working on right now.
While I am stuck at home, I will be continuing to film POV custom videos. Feel free to reply to this email and get yourself a little something. 😉
I am also proud to announce that Clips4Sale is doing another month-long sales incentive, which means we get bonuses every time you use our unique link! I have it hooked up to my vanity URL, so it will be easy to bookmark and remember. Every time between now and April 30, 2020, I will receive 100% of ANY clip purchased with "OliviaRoseFetish.com"! Giving back to their creators like this is yet another reason Clips4Sale is my favorite clip platform. They honestly do look out for their clip studios.
I released five new clips this week. Please feel free to snap them all up and support me any way you can! I am truly grateful for all of my fans out there and your continued support, especially during this time. It means the world to me that I can do what I love for a living. So cheers!
Lastly, I just want to say stay safe out there! Practice your social distancing, stay home, stay safe, and we can all get through this together! Till next week!
Warm Regards and Kinky Dreams,
Olivia Rose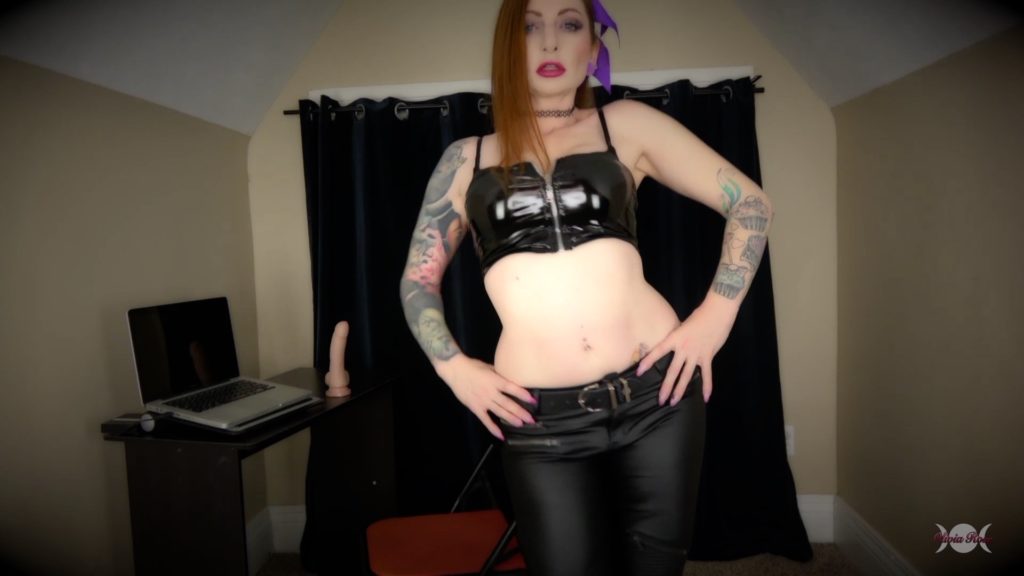 Trish's Meta Mesmerize
***This is a custom clip. For your own go here!***
Custom Script:
Dressed in the PVC top (slightly zipped down), leather pants, belt, and boots with black bra and panties under them. Hair tied the same in as my The master of darkness nemesis video with makeup and red lipstick, choker, and if you have a black arm sleeve on your left arm. The videos start with you sitting on a chair stroking a dildo, watching your metronomic joi video on your laptop. (start from 0:0800-0:10:40 react to the video like when the video says keep stroking you say yes I will keep stroking and when it says control you/ mesmerizing you say controlling me/ mesmerizing me.) Dante comes in and snaps you out of your trance, and you pause the video. "Master Dante, your back oh, you want to open up a dominate shop where I dominate and pleasure men?" Yes, I'm always ready to comply cause I am your metronome stroke slave, and I am willing to dominate and torture those men who will pay us." Oh, you want me to look at more Olivia Rose videos, but why I already believe I'm ready to dominate those men" "Oh fine ill watch more Olivia Rose videos to program myself to be like her." You start to play your leg mind melt video (start from 0:00:22-0;01;40 then skip to 0:06:47-0:0757 same thing, please react to the video while stroking the dildo). Next, you jump to 0:12:18-the end of the video, and your head goes down when the video ends. Metronome starts to play at 60 bpm, and you awake and stand up mindlessly. "Yes, Master Dante time for some metronome dancing." You begin to dance to the beat(when the metronome stops you freeze, every 1 min and please increase the speed of the metronome by 20 max 120) "Yes master Dante I will change into the outfit you have prepared for me." You walk to the right and return in your outfit in your https://www.clips4sale.com/studio/93991/22408319/bbc-for-black-friday-mp4-sd video, same bra, and panties under them, choker, black boots, and hair untied, mindless and waiting for commands holding your riding crop in hand. "Yes, Master Dante, when you say the word "Jackpot," Trish will be transformed into Olivia Rose, the evil and cruel mistress, but I will still be obedient to you." "Jackpot." You blink, and now you are Olivia Rose. "umm, yes, master Dante it is I Olivia Rose, and I ready to torture and punish men who shall be my first victim?" "Oh, we have our first client in the other room?" yes, master Dante this will be a lot of fun lets go. You walk into your bedroom with the metronome to see the client. "Umm, well, hello there, I see master Dante has sent me here to teach you a lesson, and now Olivia Rose here will have some fun with you now, hahaha." "Trish? Who is that I am the evil goddess Olivia Rose! Now be quiet and start stroking to the beat of the metronome. We will begin to fast (slap him with your crop). You turn the metronome to 120 bpm and give him joi instructions for 2 mins while dancing and hit him whenever he slows down stroking. "Nono, you're stroking too slow here Ill show you what I want." You take over from him and stroke him (pull up the dildo) for the last 1 min while teasing him and your orgasm when he cums. "There, that's how you're supposed to stroke now. Remember to come back here for even more sessions. I'll make a true man out of you just like Master Dante now pay up!." You collect an envelope and thank him and wink to him, and the video ends."
Length: 18 minutes
Price: $18.99
Available NOW on OliviaRoseFetish.com!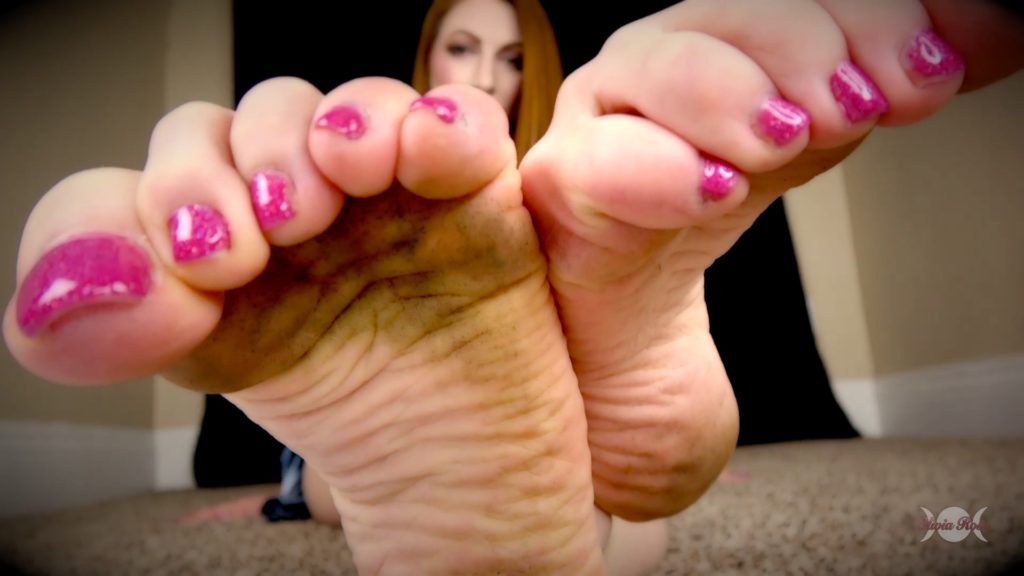 Devoting Yourself To Dirty Feet
There are some things in this life that you just can't resist. One of those things is my dirty feet. You need them. Only one lick, one whiff, one taste shoots you straight into ecstasy. You want to devote yourself to serving me and my feet, and I give you the chance to do just that, foot slut. The more you see them, the deeper you go and the more addicted you become. You just can't help it!
Length: 11 minutes
Price: $11.99
Available NOW on OliviaRoseFetish.com and IWantOliviaRose.com!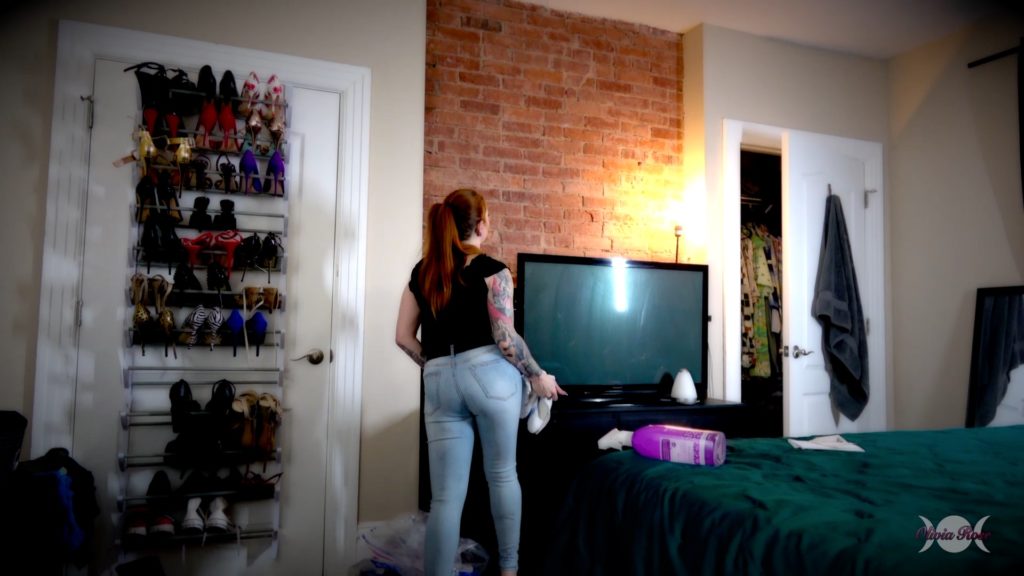 Let Those Long Farts Rip 3
***This is a custom clip. For your own, go here!***
Custom Script:
"Olivia, I want this video called Let those Long Farts Rip 3. I want you to wear a nice shirt or blouse with some sexy tight light-colored blue jeans and one of your design type belt and your favorite color thong. I want you to start in your bedroom during the beginning of the video doing chores and then start walking to your living room doing more of your daily tasks. I want you to Fart and Fart with the jeans button up with the belt buckled as you do your chores. Olivia, keep doing long, hard farts walking through your house. Then you will start to unbutton/unzip the jeans and unbuckled the belt and show some of your thong as you keep farting continuously nonstop. Olivia, I want you to bend over a lot and let those long farts rip and rip. Olivia, I don't want you to touch your booty at all in this video while you let those long farts out. As you walk and let those long farts rip out, make your booty cheek tighten up one at a time as those farts come out."
Length: 25 minutes
Price: $25.99
Available NOW on OliviaRoseFetish.com!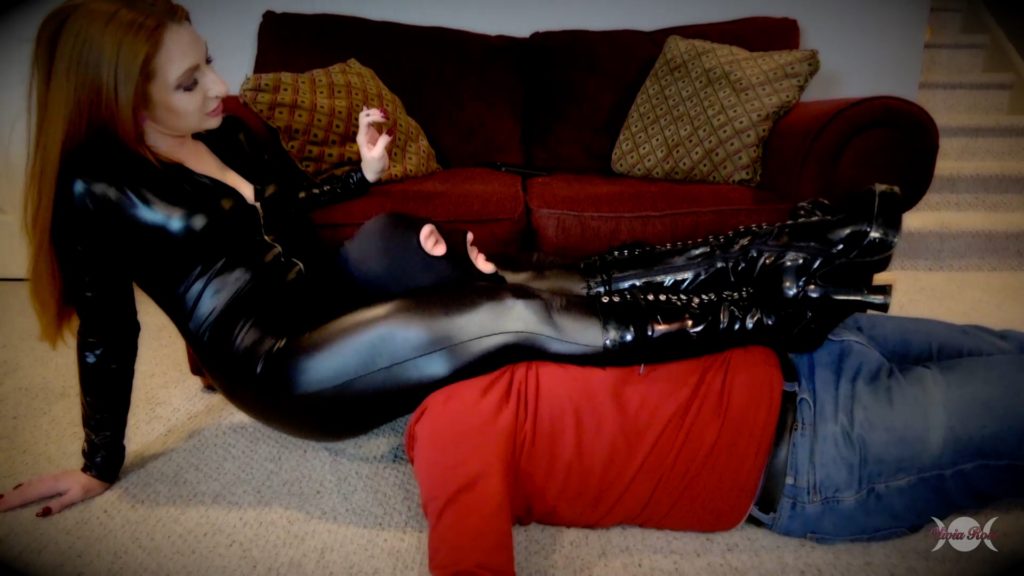 Zoo Smuggler Zeroed
The scene is set with Dummy talking to one of his warehouse managers about the order of albino spotted flying monkeys. He doesn't know it yet, but our rogue assassin, Olivia Rose, has intercepted the shipment and taken down the whole warehouse staff. Tony, the manager, is telling Dummy about how all the worker's bodies lie about and that it looks like a gory scene happened there.
Dummy is confused and frustrated, pacing the floor. He is so engrossed in the call that he doesn't even notice that the assassin is sneaking downstairs. He will get his dues, and Olivia Rose has zeroed in on him to make him her next victim. She jumps him, wraps her diabolical thighs around him, and gets on the phone with Tony, telling him that he has done a great job keeping Dummy occupied.
Our rogue assassin loves taking things slow, really putting the pressure on her victims, toying with them till they tell her everything she needs to know. She at first has him in a rear-naked hold, making it, so his neck and body feel it before taking him to the ground and edging him with her thighs, scissoring him and getting off on his pain. She toys with him a bit further, letting him know why he deserves his fate, and then with one quick snap of his neck, it is all over. This zoo smuggler is zeroed, and she is off to find her next victim in her search for vigilante justice.
Length: 12 minutes
Price: $12.99
Available NOW on OliviaRoseFetish.com and IWantOliviaRose.com!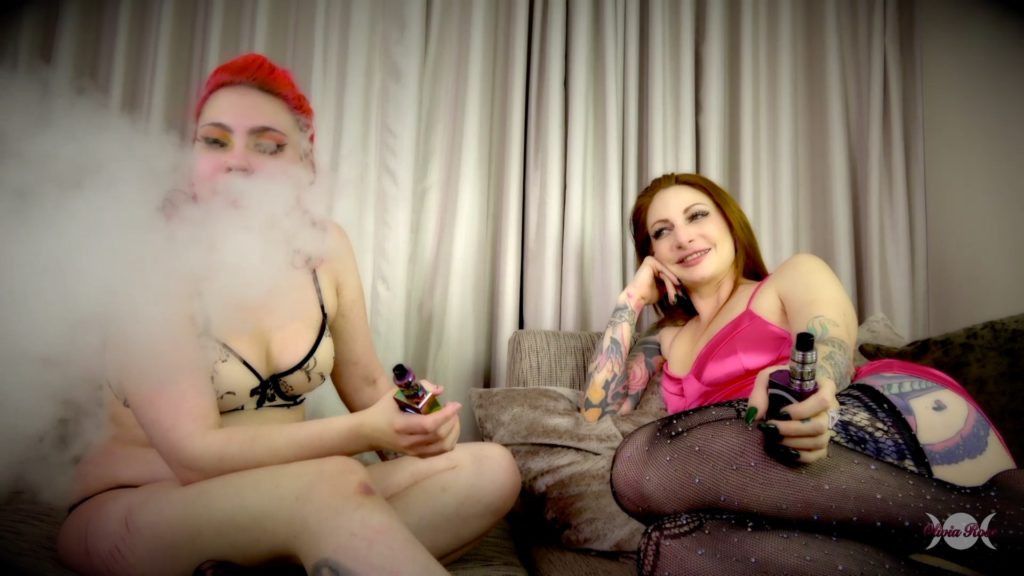 Vaping & Chatting featuring Laila Mayhem
It's always nice to catch up with old friends, especially after not seeing them for a long while. In this clip Laila and I hang out, cap, and chat, giving you an inside look at some big clouds and funny stories. Laila's vape clouds are simply epic, filling the room every time she takes a hit.
Length: 13 minutes
Price: $13.99
Available NOW on OliviaRoseFetish.com!