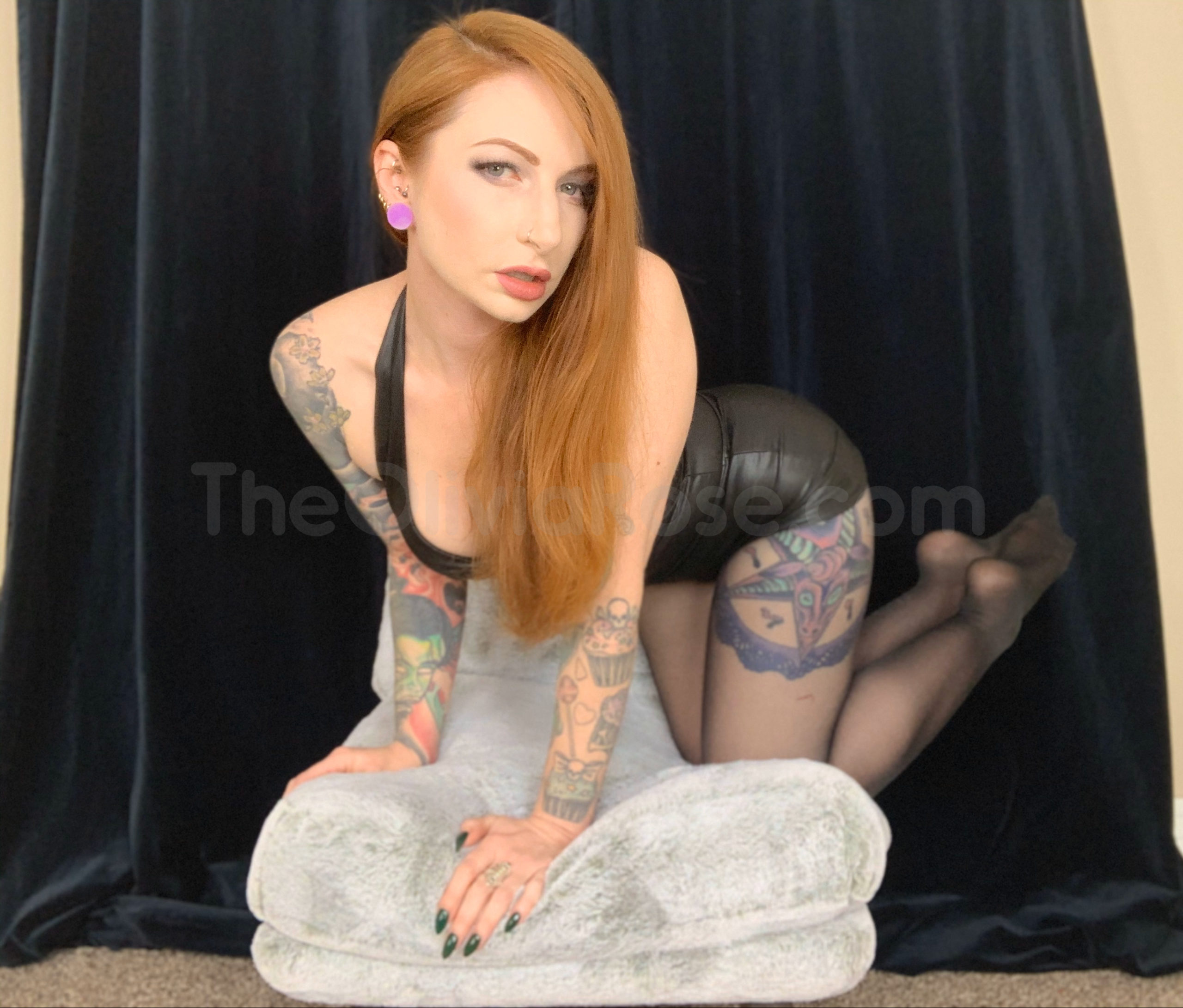 Hello, Pets,
I hope everyone has had a fantastic week so far! I am busy shooting customs, taking calls, and mercilessly teasing people. I am also busy planning all of my trips this year, which will include Exxxotica Conventions and FetCon! I am excited about all the traveling I will be doing this year. I hope you all have some excellent plans in the works as well.
Over the last weekend, my custom raffle ended! I didn't get as many submissions as I thought, but I did get quite a few sales. The winner of a free 10 min custom is TommyN76! Thank you to everyone who participated! I will be doing another for the next incentive. 🙂
As usual, I am filming solo POV customs this week. Also, I will be traveling to see Goddess D here in a week and a half, and we are taking some custom requests. We will have a film slave too, so if you want to see something starring Goddess D and myself, please reply to this newsletter!
This last week I released six new clips for your pleasure and mine. Please browse the titles below and snap them all up if you haven't already.
Well, that is all for this week. Till next time!
Warm Regards and Kinky Dreams,
Olivia Rose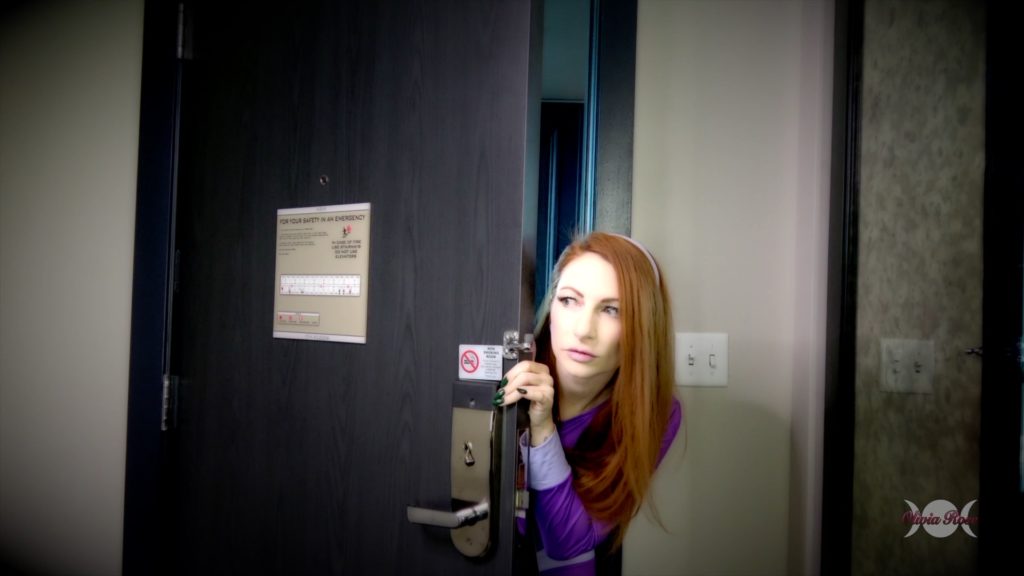 Daphne Blake Foiled Into Control
***This is a custom clip. For your own click HERE!***
Custom Script:
"Dressed the same in your Daphne Blake's Shoe Play Blunder video with the same makeup, hair, pantyhose, and heels but with your purple bra and panties under them. You and Freddy have found out that your previous criminal, Harry, the mesmerist, aka the ghost clown, has escaped and is up to no good again. You and Freddy(cameraman) arrived on the scene and decided to split up and look for him. You warn Freddy to be careful, and you run away. You enter a room slowly and sneaky, looking around for any clues until you come across a closet filled with clothes. (Camera facing your side view) You slowly walk to the clothes looking behind when you turn to your front, you see an arm holding a beautiful pendant and swinging it back and forth. You gasp while the person behind the clothes starts talking b" You will pay attention to my pendant, and soon your mind will be mine,(Camera facing your front view with the pendant swinging in-front of you) watch the beautiful pendant. You will do as you are told (Say I will do as I am told. after 30 seconds of staring at the swinging pendant, please add the spiral effect for the last 10 seconds). "You will address me as Master Harry, and you will help me take down your meddling friends (You blink and smile). "Yes, Master Harry, I will take down my meddling friends for you." The camera goes black, and now its the next scene, you are standing with your hands on your hips looking mindless for 10 seconds when Freddy comes to find you. "Freddy looks here. I found a clue (cloth on the floor). I think it belongs to Master Harry. We need to stop him" You realized that you just said Master Harry, and you say, "Jenkins, well time to execute plan B." You use the cloth that you were holding and knock Freddy out. He wakes up seeing you tieing him up with his cock out (dildo), and he struggles while you threaten him by telling him to stop moving or you will off him." "They're all tied up. The only thing you can move is that huge cock of yours." You walk back and stand at attention in a trance. At the same time, Master Harry describes through radio. That's right. I mesmerized your little girlfriend now she will only obey me soon I'll get my revenge on you meddling people for ruining my plans now let's have some fun, Daphne does a sexy striptease now!" "With pleasure Master Harry." You start to dance sexy(add sexy music) for 1 min then you start to take out your everything except you bra, panties, and stockings. "Oh, someones getting hard seeing me dance and tease, huh." " Ok, that's enough Daphne now go and change into the outfit I have prepared for you. "Yes, Master Harry." You stand up and return with the clothes (the same clothing in your bodysuit with shiny black leggings, leather boots, and cat woman gloves) and your laptop in your hand. "We are going to play a little game here, Daphne." Now, Freddy, you're going to stroke to Daphne while she dances to the sound of the metronome and she puts on her outfit, you will jerk your cock according to it starting now!" You play this video and stand at attention with a mindless look on your face for 10 seconds please stand like the pic attached (Master Harry says "the metronome controls her mind and body now watch as she slowly sways to it.") before starting to dance sexy hands on your hips for 30 seconds. You start to put on your top first (Follow this sequence Top, leggings, boots, gloves after putting on an article of clothing you play these videos in sequence while dancing). "Good she is dressed you are no longer Daphne Blake from now on you shall be known as Daphne Black my sexy and evil assistant. "Now continue to torture him and jerk him off with those leather hands of yours." "Gladly." You walk to him and dance on his cock according to the metronome(pull out the dildo again with your gloves and shake your ass on the dildo please make sure your ass touches it.) for 1 min. Then you pause the video and start to touch his cock, admire it, and play with it for 30 seconds before jerking him for the last 1 min. You encourage him to cum on your gloves, and you orgasm when he cums. "Oh wow, look at that load. You certainly enjoyed it, huh oh his asleep now haha too much from cumming huh who shall we get next Master Harry?" "I was thinking of Velma. Next, you will bring her to me, and I will mesmerize her to be mine as well, but first, we need to do a little reprogramming go and watch the video I have sent you to watch" " Yes Master Harry as you will." You walk back to your laptop and play this video while sitting down hands on your lap. "Good now, you all set my little mind-controlled slave now its time for some pleasuring." "Yes, Master Harry." You walk to the right, and now the next scene you lap dance on him for 1 min (sexy music on). "Good now, jerk me off." "Yes, Master Harry." You kneel in front of him and play with his cock (dildo) while teasing him and stroke him with your leather hands for the last minute, and the video ends with you saying, "Yes, Master Harry, please explode all over me." Then the video ends with you still stroking."
Length: 18 minutes
Price: $18.99
Available Now on OliviaRoseFetish.com!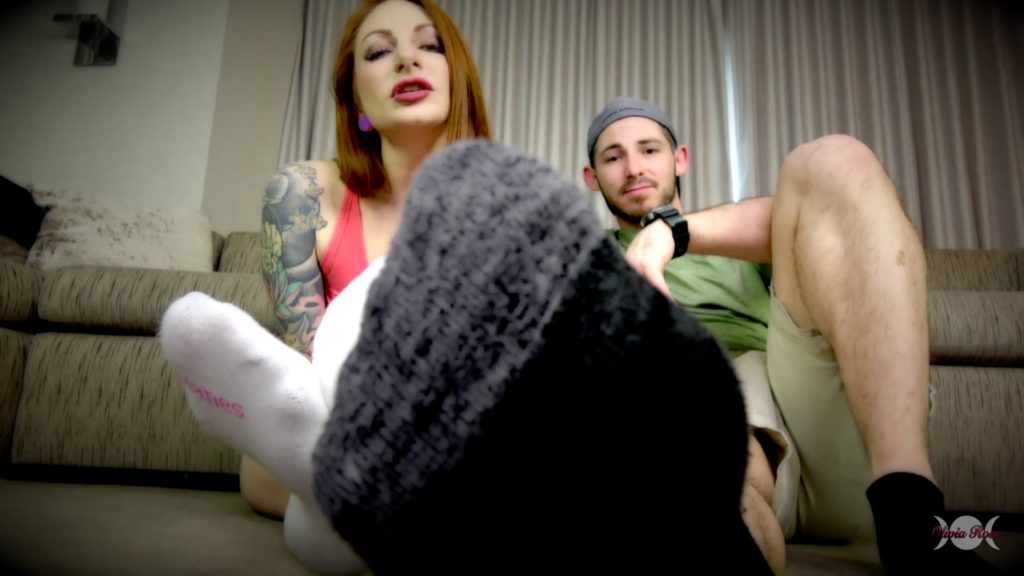 Sock Cuck
You can't live without my sock and will do anything for them. I know this, you know this, and my studly man, Toby, knows this. We were walking around all day, getting our feet nice and sweaty for you, but there's a catch, sock slut, you can't worship or touch my socks, no, you need to sniff, smell and lick Toby's instead! That's right, and we know you wish you could be in Toby's place. You want to be with me, but you can't because you're just a beta sock bitch. The closest you'll get to my sweet-smelling socks are through his! How does it feel to be my sock cuck?
Length: 12 minutes
Price: $12.99
Available Now on OliviaRoseFetish.com and IWantOliviaRose.com!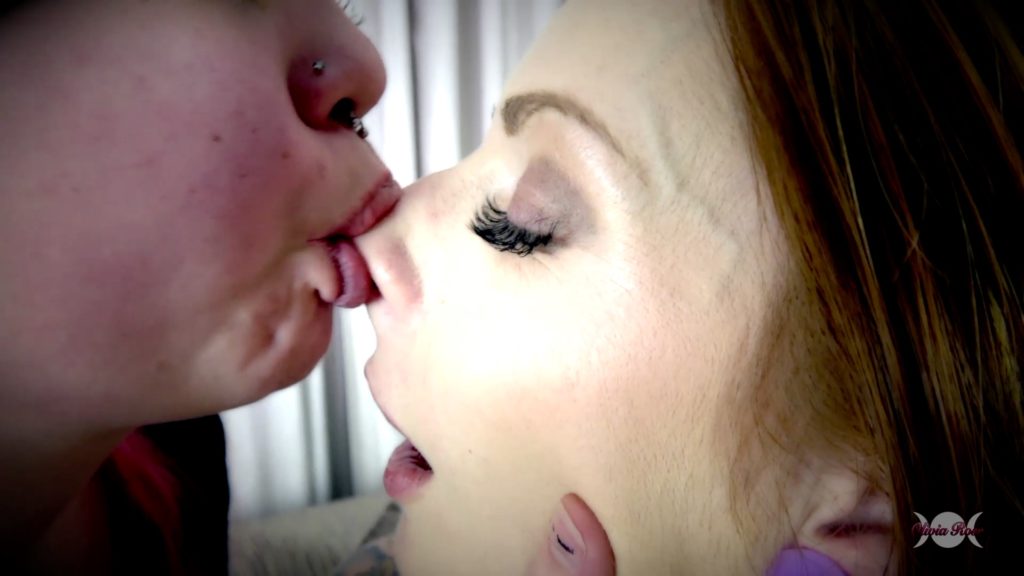 Loving Olivia's Nose
***This is a custom clip. For your own click HERE!***
Custom Clip:
"I would like it to start with you and her on a couch as she compliments your nose, then you ask her if she has some fetish in a joking way before admitting she does and would like to suck on your nose. You're taken aback by this at first, but then admit you've never had your nose worshipped before, so you tell her to go ahead and suck it. She sucks it for a while before asking if she can stick her fingers in your nose, to which you agree. She picks it and licks it while picking it before saying she wants your nostrils as she lifts your head to look up, and she sticks her tongue deep into your nose. Then you at her, and she uses her fingers to give you a pig nose as she sticks her tongue in your nostrils again. Then she goes back to sucking your nose as the video ends. The camera should focus on your face and nose for the most part."
Length: 21 minutes
Price: $21.99
Available Now on OliviaRoseFetish.com!
Leather Mommy Loves You
***This is a custom video. For your own click HERE!***
I have finally regressed you to my perfect bb boy. I went and changed into my leather because I know how much you love when mommy wears leather. I realize quite quickly by how full that diaper is of your that you desperately need to be changed! I take it off, wipe you down, and put a fresh one on you. You seem pretty fussy, so I lift and carry you around, trying to get you to calm down. You are such a heavy boy! You don't quiet, though, so I decide that maybe breastfeeding will do the trick.
All is going well until I feel you bite down on my breast. It hurts, and it makes me upset. I realize right then that you need a spanking. I turn you over and start smacking you firmly with my leather gloved hand. "Remember, this hurts me more than it hurts you." I spank you until I think you have learned your lesson of how you shouldn't bite mommy.
You're still super fussy, but that is ok because I have a brand new paci just for you. It is sure to quiet my boy down. Look, it even reads, "Mommy loves you" on it! Now, hush as I rock you back and forth to rest.
Length: 13 minutes
Price: $13.99
Available Now on OliviaRoseFetish.com and IWantOliviaRose.com!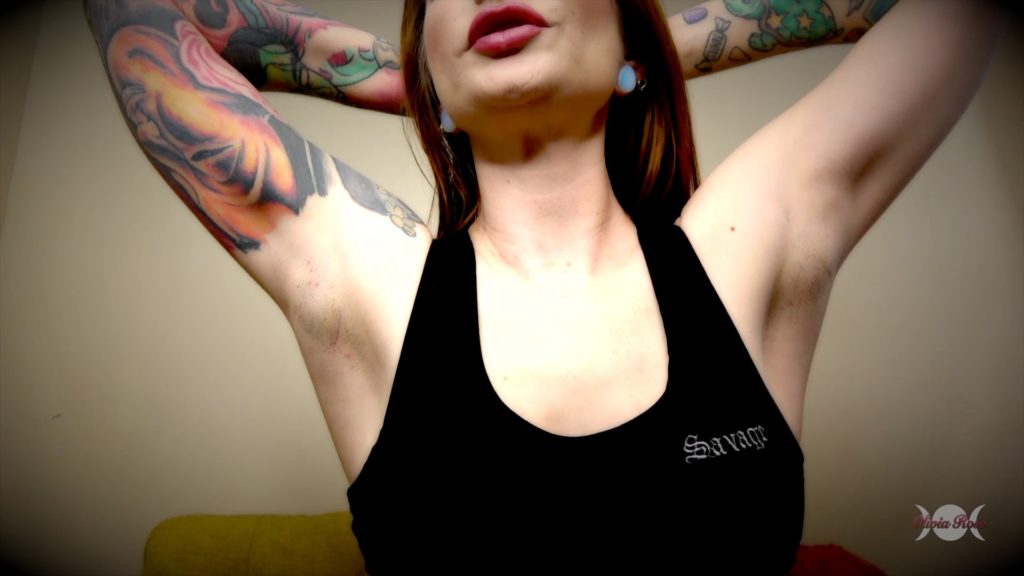 Powerful Sexy Workout Pits
I just got back from an intense workout, and I am just so sweaty, which is perfect for you since you love my essence, but more so than just the sweat I have on my body, you like when it couples with my prickly armpits. You are going to lick it all up. You will worship my powerful pits, taking in their aroma. With each lick, you will feel my power and want more!
Length: 11 minutes
Price: $11.99
Available Now on OliviaRoseFetish.com and IWantOliviaRose.com!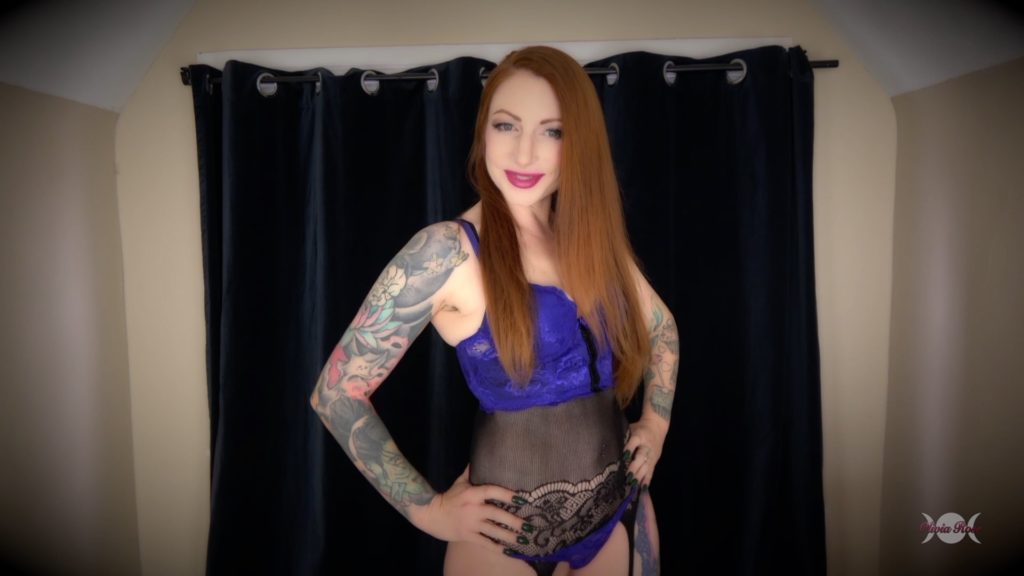 Forced BBC Lovin' Loser
***This is a custom clip. For your own click HERE!***
Custom Script:
"Hi SLAVE Jeff, YOU FUCKIN R***!!
It's your goddess Olivia
Jeff, I'm going to make you suck my boyfriend's big fat, BLACK COCK!!! YOU WILL OBEY YOUR GODDESS!!! I'm going to whore you out. You are my fuckin bitch. I will have you suck all 20 of my black cocks and Fuck You!! They will show no mercy
Their cocks are up to 14 inches long and FAT. Jeff, I know you love big black cock and big hairy balls.
Don't forget their VEINY COCKS AND NUT SACKS!!
Jeff, Big Black Cocks Own You, Big Black Cocks own you, say it jeff!!! Big Black Cocks own you!!
JEFF, I know what you like, sweet, warm cum.
Well, JEFF, suck my all my black boyfriends cocks down to their ball and swallow their load. DRAIN THEIR BALLS, YOU WHORE!!!
JEFF, Beg for their cum, beg for their HUGE WARM LOAD!!
Fill YOUR MOUTH AND SWALLOW ALL THAT CUM!!!
Well, Jeffery. Beat your cock off, jack off, whack off.
JEFF, THE KING OF DEEP THROATING BLACK COCK AND CUM!!
JEFF, YOU ARE A Big Pathetic LOSER!!!!!!!!!!!!!!!!!!!!!
What a joke you are!!!!!!
JEFF, THE R*** LOSER!!"
Length: 7 minutes
Price: $7.99
Available on OliviaRoseFetish.com and IWantOliviaRose.com!