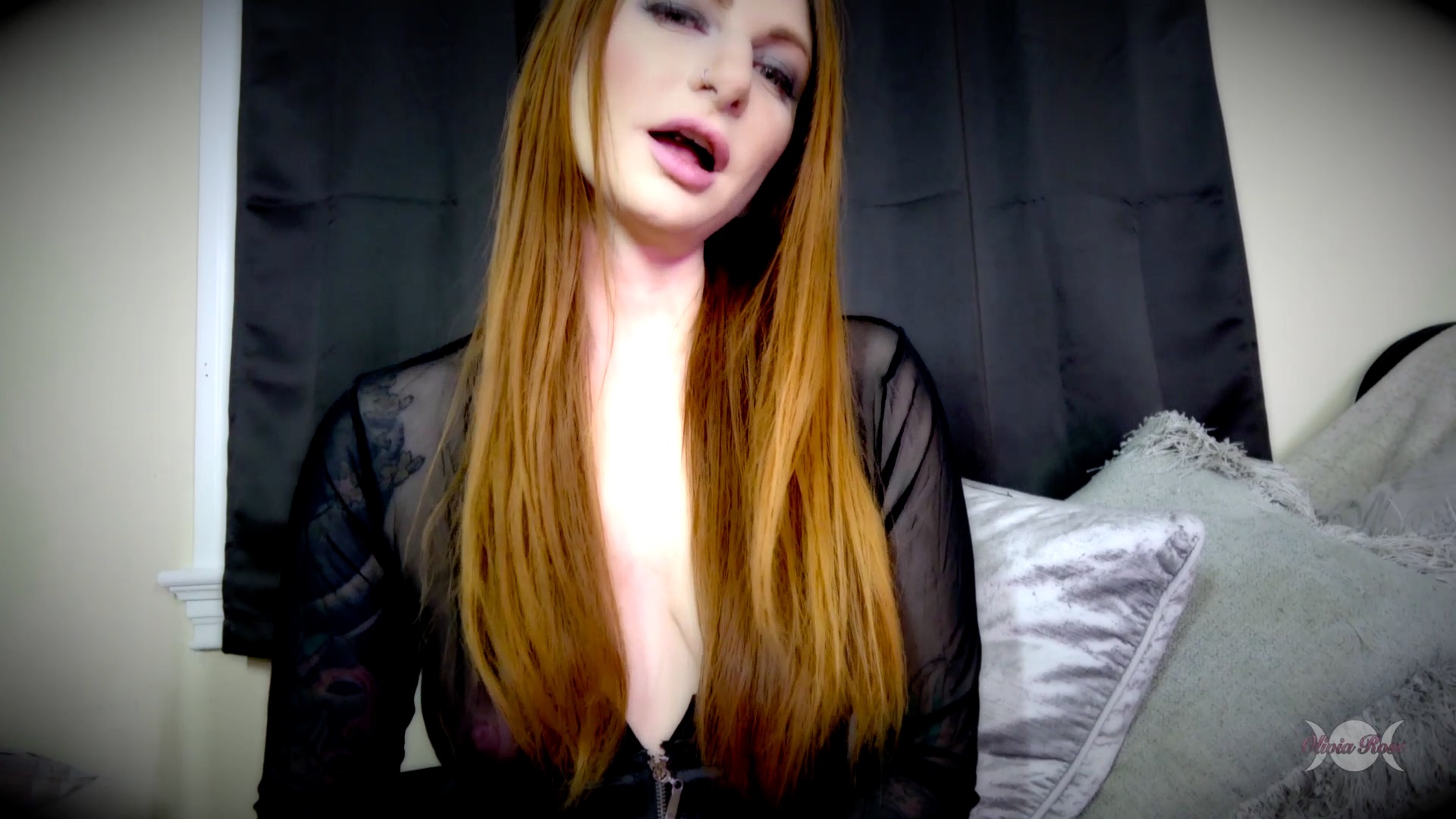 Greetings Pets,
Happy Tuesday! I am in a considerable frenzy over here, getting ready for my Vegas trip to AVN! I have all of my updates I am working on to provide you with fresh content while I am gone, as well as packing and finalizing everything around Rose Manor. We will see if I get it all done in time. I am sure I will!
Speaking of AVN, if you happen to be attending the Expo, I will be at the Clips4Sale booth! If you get my newsletter, then come up and say "Hi" and tell me. I have a special Olivia Rose Fetish sticker. I have a limited number though, so first come first serve. 😉
I have a great lineup of fellow talent I will be working with next week! I am super excited to share it with you all! So far, I will be filming with Ms. Whitney Morgan, Caroline Pierce, Toby Springs, Miles Striker, Fluffy, Laila Mayhem, Penny Poison, as well as a special slave. If you would like a fetish or Femdom custom, please reply to this email, and let's set something up! You better act fast, though, since time is running out to order. 😉
There are only 17 days left of the "End of the Year Sales Incentive!" I am still running a custom raffle for every purchase made with OliviaRoseFetish.com URL. Just remember to send me your receipt for entry. The more clips you buy, the higher the chance you have to win!
Well, that is all the news I have for this week! Next letter you will get from me while I am in Vegas! Feel free to browse the five clips I released this week and snap them all up using my unique link! Until next time, my pets.
Warm Regards and Kinky Dreams,
Olivia Rose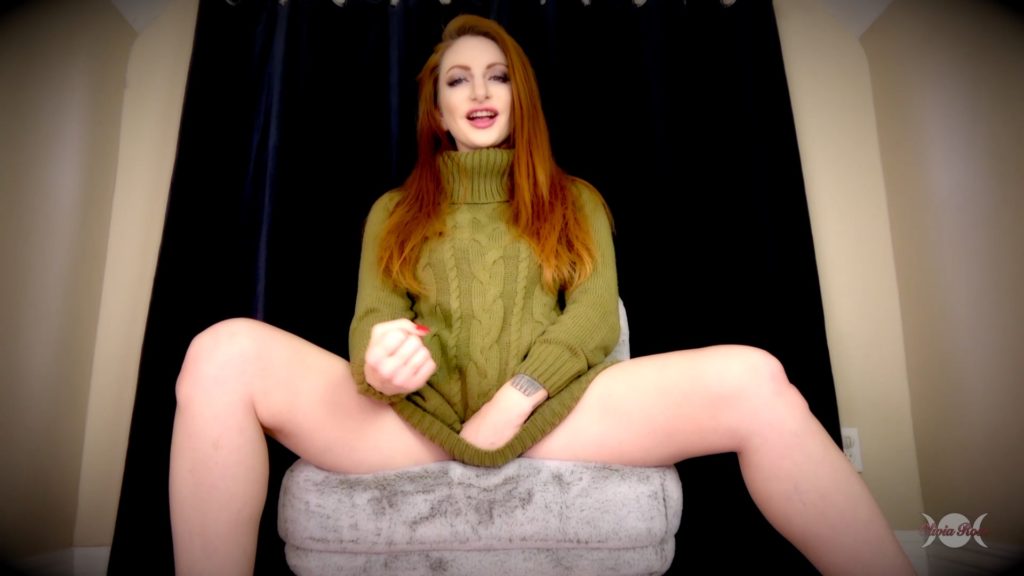 Green Sweater JOI
I recently was gifted a new sweater dress for Christmas, and I thought it would be the perfect thing to tease you all. I know you love looking at them, especially me in my curvy body, how the wool cable knit lays perfectly on me, the cowl neck shrouding my neck, and the small peek of my tits underneath the warm fabric. You know you want to stroke your cock to this sweater! Stroke to my warm, wonderful new green sweater as I tease you until you can't hold back any longer and just cum!
Price: $11.99
Length: 11 minutes
Available Now on OliviaRoseFetish.com and IWantOliviaRose.com!
Daphne Blake's Shoeplay Blunder
***This is a custom video. For your own go HERE!***
Custom Script:
"So this starts with the camera black, but you can still hear your voice. You say ok. I'm going to pull this mask off and see whos causing all this trouble. Then the camera comes on into you facing me as if you unmasked me." Hey, you're Donny Dastardly, one of the biggest criminals out there! And I caught you -not Fred, or Velma, or Shaggy or Scooby me Daphne. That's who! Wait till I tell the gang. So then you call up Fred, and you start telling him you caught Donny Dastardly, and you have him back at your headquarters(You don't need another voice just ad-lib like someone is on the line you are talking to now. Fred tells you that there is a bomb Donny planted at an abandoned warehouse, and he needs that location because there are valuables there that will be destroyed if they don't get there in time. So Fred wants you to try and get that location. But remember you are on borrowed time. All the while, you are talking to Fred, you have the camera on your feet kind of like the first custom you did for me. Lots of shoeplay while you are talking on the phone with Fred. So then you hang up the phone, and you turn your attention to me.
You look at me and say "Ok Donny you are going to give me that location and you are gonna make me famous" You know why because for years I have been the 5th wheel in our gang behind some pretty boy, a nerdy girl, a hungry hippie, and even a rover. 5th place!! Can you believe that? I have been underutilized and under-appreciated. Well, no more. Its Daphne Blakes turn. All I ever do is carry Scooby Snacks in my purse, and I am tired of my designer purse smelling liked doggie treats! You can adlib here too because you are good at it. Just go off talking to this criminal about how you feel left out instead of trying to make him give up the location.
You then look at the camera after babbling and complaining that you always had to wear pink tights and how much you hated pink tights. But Fred made you do it. You then get this serious look and say to me " Ok here is what's going to happen I am going to go take care of something quick(cuz we don't have much) time, but when I come back, you are going to give me that location and then no more with Daphne being a doormat for these other losers in the gang. That's when you leave and change out of your pink tights and come back in still wearing the purple heels but now wearing the tan pantyhose. You approach me and say, " Ok, Donny, I have something to ask you, and you are going to tell me what I need to pause hear…you and then say…So do you like my new pantyhose? Aren't these so much better than those icky pink tights I was wearing? Well, this is part of the new Daphne, the one who dresses as she pleases because she wants respect. Then you look at me again and say, "Ok, its time to get down to business. Before you can even finish your cell phone rings and you pick it up to its one of your girlfriends. Are you like, " Hey girlfriend, what's up? No, this isn't a bad time. Then you go into gossip mode and forget about interrogating me. And of course, while you are on the phone doing this again, you are doing major shoeplay. But you don't know I am noticing. So after being on the phone for a little bit. You come over to me and complain a little bit more about being mistreated and waste more time, and then your phone rings, and its Fred he wants to know if you have a location yet. You tell him no that I won't talk. Again with the shoeplay and after a few minutes, you notice me looking at your feet. You say to me, "Are you checking out my feet ?"I deny it, but you are like" No I think you are.]Well today's your lucky day because I am going to give you a closer look. You then kick off your heels and start wiggling your toes into the camera as if you are wiggling them into my face. Then you start talking about getting your toenails done and how expensive it is-more time wasted. Then you put your heels back on and right when you do Fred calls back a final time demanding the location You go into beast mode and bitch him out about all the years he's never taken you seriously. And it should all be about me. You are never taken seriously. All the while, your back is turned to me and once again during serious shoeplay. So once you hang up with Fred, you turn around but notice I'm not even there. You call my name a few times before being like, "Oh snot, he got away. Ah, man, it's back to Scooby Snacks duty for me. So then you put your head down and call Fred again and are like, "Fred, He got away. I don't know what happened. He was all ready to talk and everything."
Length: 20 minutes
Price: $20.99
Available now at OliviaRoseFetish.com and IWantOliviaRose.com!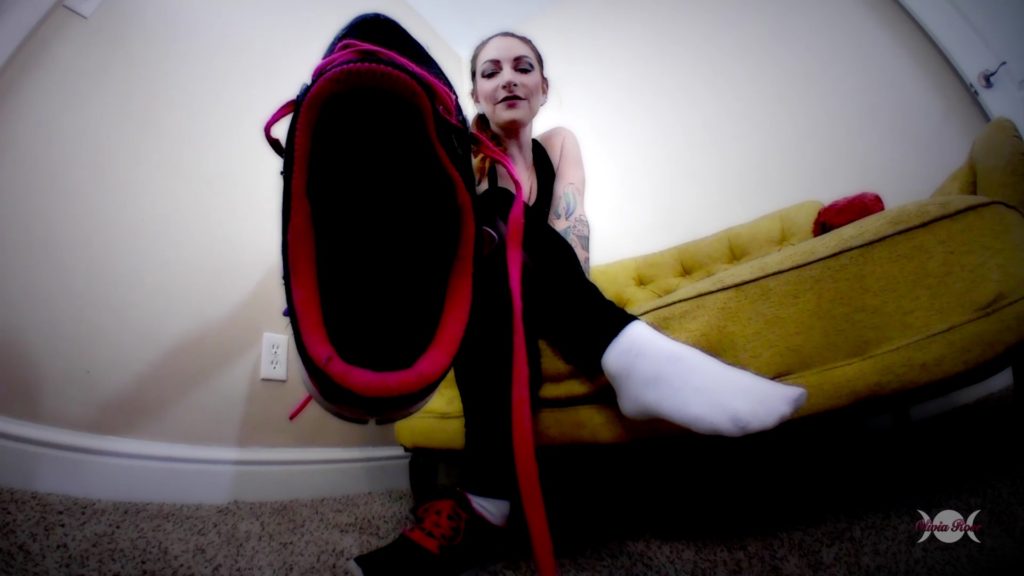 Shrunken Gym Creep Revenge
Here I am, minding my own business in the corner of my gym when I keep noticing a guy gawking at me. Every time I look over there, he is tongue out, practically drooling. Being the witch I am, I decide to take matters into my own hands for the sake of every other woman in the gym and me. I confront him, but he seems unremorseful. That's when I shrink him.
With a snap of my fingers, I change him into a much more manageable size, shove him between my sweaty tits, and take him home.
AS soon as I get back to my house, I take him out and decide to mess with him a bit. I shove my smelly shoes and socks in his face, since he seemed to be eyeing them the most, and then decide what I want to do with him. I could devour him, and I could stomp him, I could do any number of things to him. I raise him to my mouth and decide to taste.
BLECH! He tastes too sweat and gross for my tastes. I think this guy deserves to go into my dirty tennis shoes to like out the rest of his days!
Length: 12 minutes
Price: $12.99
Available Now on OliviaRoseFetish.com and IWantOliviaRose.com!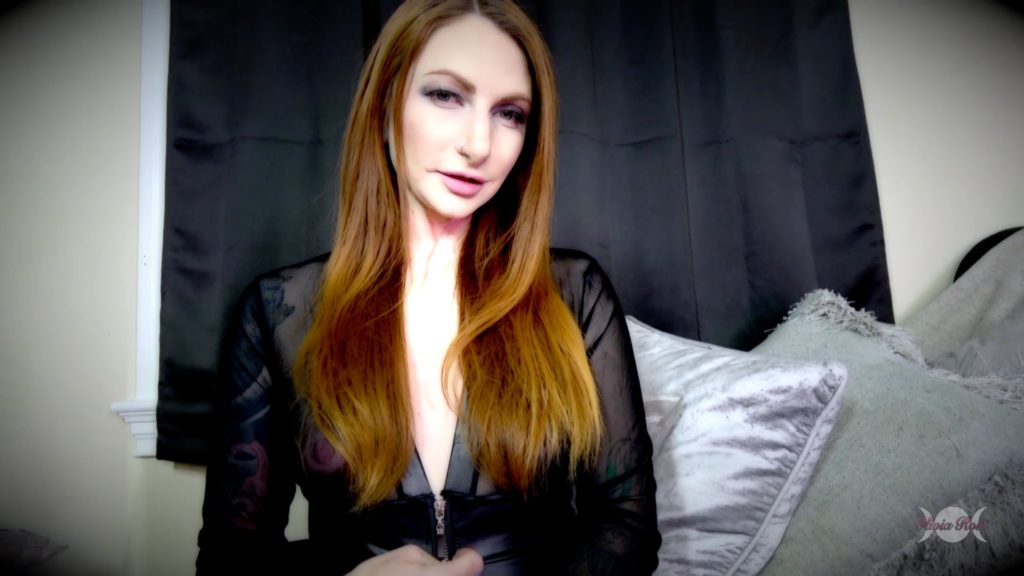 For A Happy Life Leave Your Wife
I know your type. You came from a nice conservative Christian upbringing and were taught no sex before marriage, so you married young. You're now years in and unhappy. You discovered Me to worship and realized how much of a stick in the mud your Christian wife is. You sneak around, jerking off whenever you get a chance, gooning at all hours to your thoughts of embracing the dark side and the Left Hand Path.
Well, I am here to tell you that you will never be happy, you will get caught, and you should leave her. Leave your stuck up wife for a happy life. We all know how much more fun we would have. How much more adventurous it is on the other side. So do it, leave that Christian wife of yours, and have a happy life with someone better!
Length: 10 minutes
Price: $10.99
Available Now on OliviaRoseFetish.com and IWantOliviaRose.com!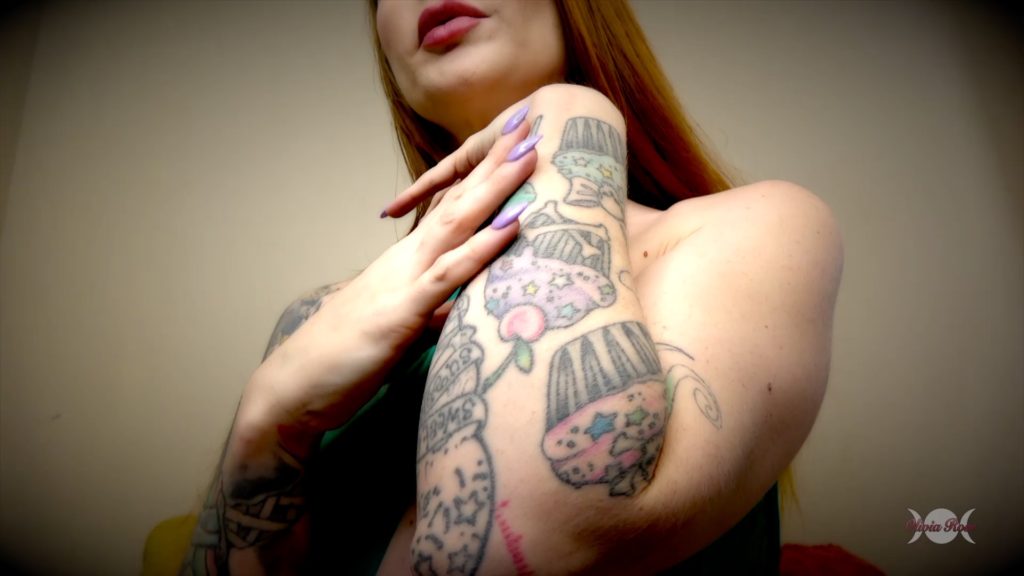 Tattoo Worship
I have been asked a lot about my tattoos and told how wonderful they are, so I thought I would give you all a tattoo tour and let you worship my ink. I start on my arms and move all around my curvy body, giving you a show of what each one of them entails. Of course, good boys will tribute so I may collect even more and grow my ink collection.
Length: 11 minutes
Price: $11.99
Available Now on OliviaRoseFetish.com and IWantOliviaRose.com!