Hello, Pets,
I hope everyone has had a wonderful week! It's been a few since I have been able to send out a newsletter. Unfortunately, things have gotten a bit crazy, and I had to take an impromptu trip to my hometown, Vegas, for a funeral. It was a true celebration of life, and since the person was a comedian, I am positive his send-off was something he would have loved.
Anywho, enough sad stuff! I am back home now and have custom slots to fill. So feel free to click here, and let's make some custom magic!
Last week, I released some new clips and had three coming out this weekend. So go ahead and browse the titles below and snap them all up!
Well, that's about all this week. I hope to be more on my regular schedule after this brief newsletter hiatus. Till next week!
Warm Regards and Kinky Dreams,
Olivia Rose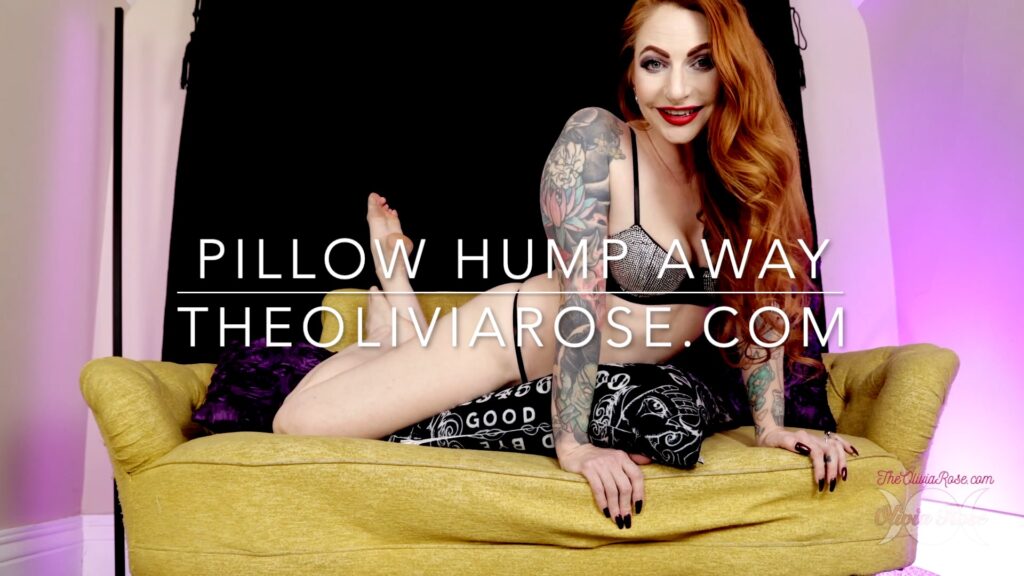 Pillow Hump Away
You love a pillow between your legs, don't you? As soon as you get some alone time, you want to pillow hump away! You can pillow hump along to my instructions, but a warning; I will humiliate you the entire time for it! So put that pillow between your legs, and let's get started, loser!
Price: $13.99
Length: 10Min.
Available Now on Manyvids, Clip4Sale, or IWantClips!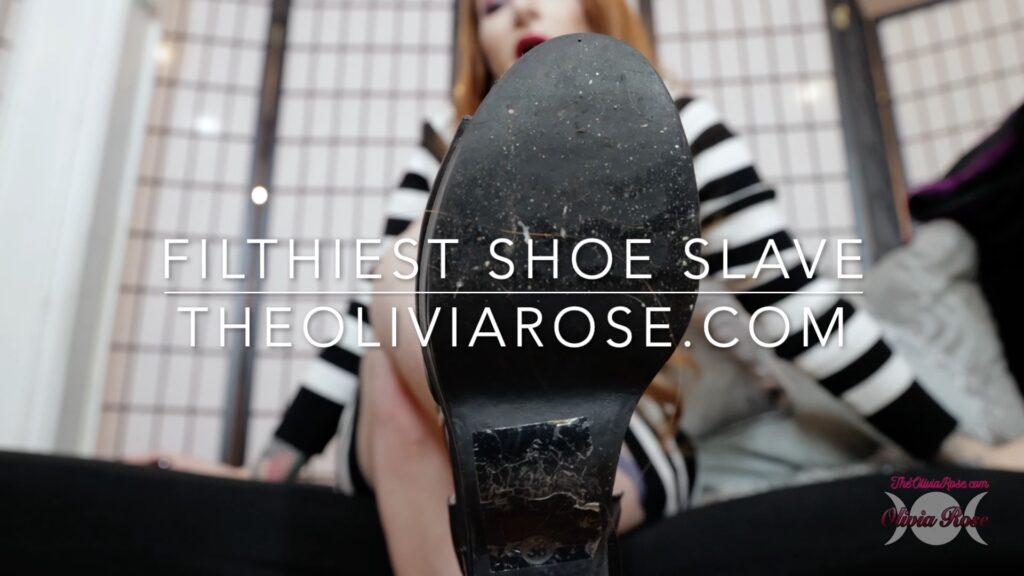 Filthiest Shoe Slave
***This is a custom video! For your own, Click Here!***
Custom Script:
Start by telling me that you want to make me your shoe cleaning slave and you want to make me eat all kinds of stuff from your shoes (please use wedges or sandals if possible). Say that you went for a walk to the park and your shoes are covered in dirt and god knows what else and that I am disgusting for licking the bottom of your shoes. Call me all kinds of names and degrade and humiliate me and laugh at me (btw, I LOVE your evil laugh, love the laugh track video) and be as mean as possible. Then, around 4 minutes, pretend that you see something icky and laugh at me as you intend to feed it to me with your shoes. Crush and grind it on the floor slowly and sensually and make me watch you do it and after you do, feed it to me and laugh at me as hard as you possibly can and flip me off, calling me names. Please make sure that you grind it nice and slow (you can use whatever you like, like a chocolate bar), and when you feed it to me, it shows excellent close to the camera. For shoes, you can wear anything like wedges or sandals. Please make sure it's open-toed (pref wedges). Don't forget to laugh at me as you feed it to me and show me how disgusted you are with me. Then crush it some more with your bare foot and feed it to me as you laugh at me. Of course, improvising throughout the clip is more than welcome. Essential parts are laughing at me and flipping me off, showing me how disgusted you are of me with facial expressions, and crushing it slowly and sensually.
Price: $14.99
Length: 12Min.
Available Now on Manyvids, Clip4Sale, or IWantClips!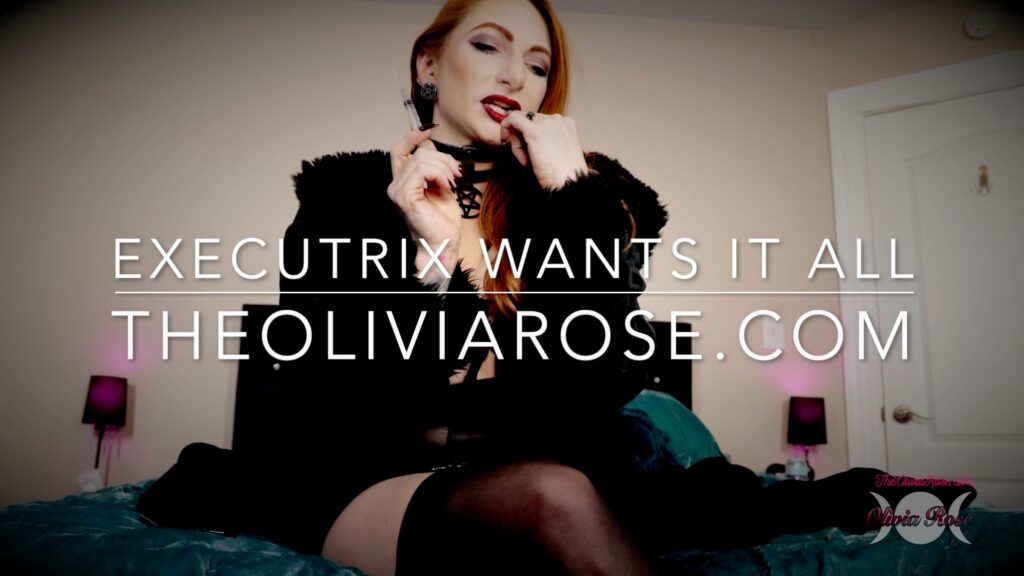 Executrix Wants It All
***This is a custom clip. For your own, Click Here!***
Custom Script:
Backstory:
Me and a business partner have embezzled a large sum of money from work. We are getting ready to skip town and go our separate ways. My business partner is greedy though and has hired an Executrix to take me out and has agreed to split the money with her.
Beginning:
The Executrix sits at a table with my business partner. He is trying to persuade her, basically begging her, to have sex with him. "I told you, you'll get off. But it's going to be my way. Understood." She is less interested in him and more interested in the task at hand, taking me out. "So exactly how much money have you guys embezzled? More than 6 figures? Interesting…" She has something in her hand that she brings into view. It's a syringe, with a narrow needlepoint. She tells my partner that once she gets into my place she'll hide it under my pillow. "I'll give him a nice tease and once his guard is down, I'll reach for this little cocktail, jab him in the neck and then it's lights out for him." She reaches her hand under the table, running it up the business partner's thigh. "Remember I touch, you don't. And just to be clear, we're splitting his money 70/30 right?…
… 50/50?!"
She doesn't like that answer. "You do want to cum don't you? Then it's 60/40." He agrees. She unzips his pants and starts to stroke him. "So what's this guy's weakness? Goth girls, huh… that's no problem." The business partner tries to touch her, she pushes him back… "Hey, not touching! Hands to yourself… now lift up your shirt. You're gonna have a sticky mess to clean up soon."
Days Later, Bedroom:
We wait on the bed for her, we see her emerge from the bathroom in a robe, which she quickly drops to reveal a sexy dark outfit. "A little birdie told me you have a thing for goth girls."
She begins a slow teasing dance (maybe to some music), mesmerizing me with her eyes and body by the way she moves. "Well, you just relax there and let me show my appreciation for helping me fix my flat tire. Just focus on me." She moves closer to the bed. "You're in for a real treat," she says, crawling onto the bed getting closer and closer until she starts kissing me. Lost in a make out session, we don't see her grab the needle and jab into my neck.
Before I know it I'm froze into place as she backs away a bit, staring down at me with a grin on her face. "Don't move," she says. "You have a needle in your neck." She finishes the injection before pulling the needle into view. "Don't feel too bad, your cock led you astray. You got caught slipping and that's a fatal mistake with a woman like me." She places her hand over my mouth. Shhh she says. "Your business partner wanted you out of the way. So he sent me." "It's over, honey… just close your eyes for me." She puts two fingers over my eyes, closing them slowly. "There you go…"
DIP TO BLACK.
"I'll take good care of your money don't you worry," her voice says with a laugh over BLACK.
Back to the Scene Moments Later:
The Executrix is sitting at the foot of the bed, on the phone with the business partner. "Oh yeah… so quick and easy. Let's just say I took him out before he was able to take it out of his pants." She finds it amusing. "We'll I'm ready to collect, can you meet me in a little while…"
The Executrix reveals one more fresh pin that she examines before putting it in her purse. "… just remember I touch, you don't. And we're gonna try it blindfold this time. Something new. See you soon." She hangs up. Then proceeds to get dressed. "Well, I have one more cocktail left… it's for your business partner," she says lowering her voice.
"Why settle for a little when you can take it all. I trust my secret is safe with you," she says with a snicker. She picks up her purse to leave. On her way out the door she says, "I'd love to pick up where we left off sometime… in your next life of course." She blows a kiss before leaving the room.
Price: $17.99
Length: 14Min.
Available Now on Manyvids, and Clip4Sale!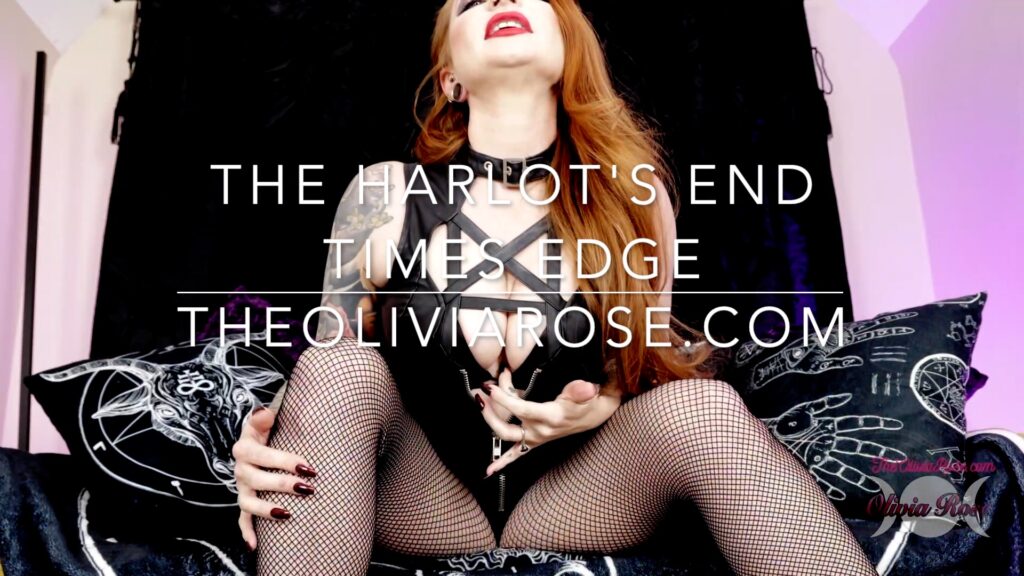 The Harlot's End Times Edge
Here it is upon us. All those prophecies in the book of Matthew point to one thing: The end of days! Today, you will be listening to Me, the Harlot, and will be choosing which side you're going to be on! I will have you stroke and edge to my words, making them sink deeper into your sinning soul until you have the unveiled realization and you choose a side, the winning side, my side, Satan's Side!
Price: $14.99
Length: 12Min.
Available Now on Manyvids, Clip4Sale, or IWantClips!