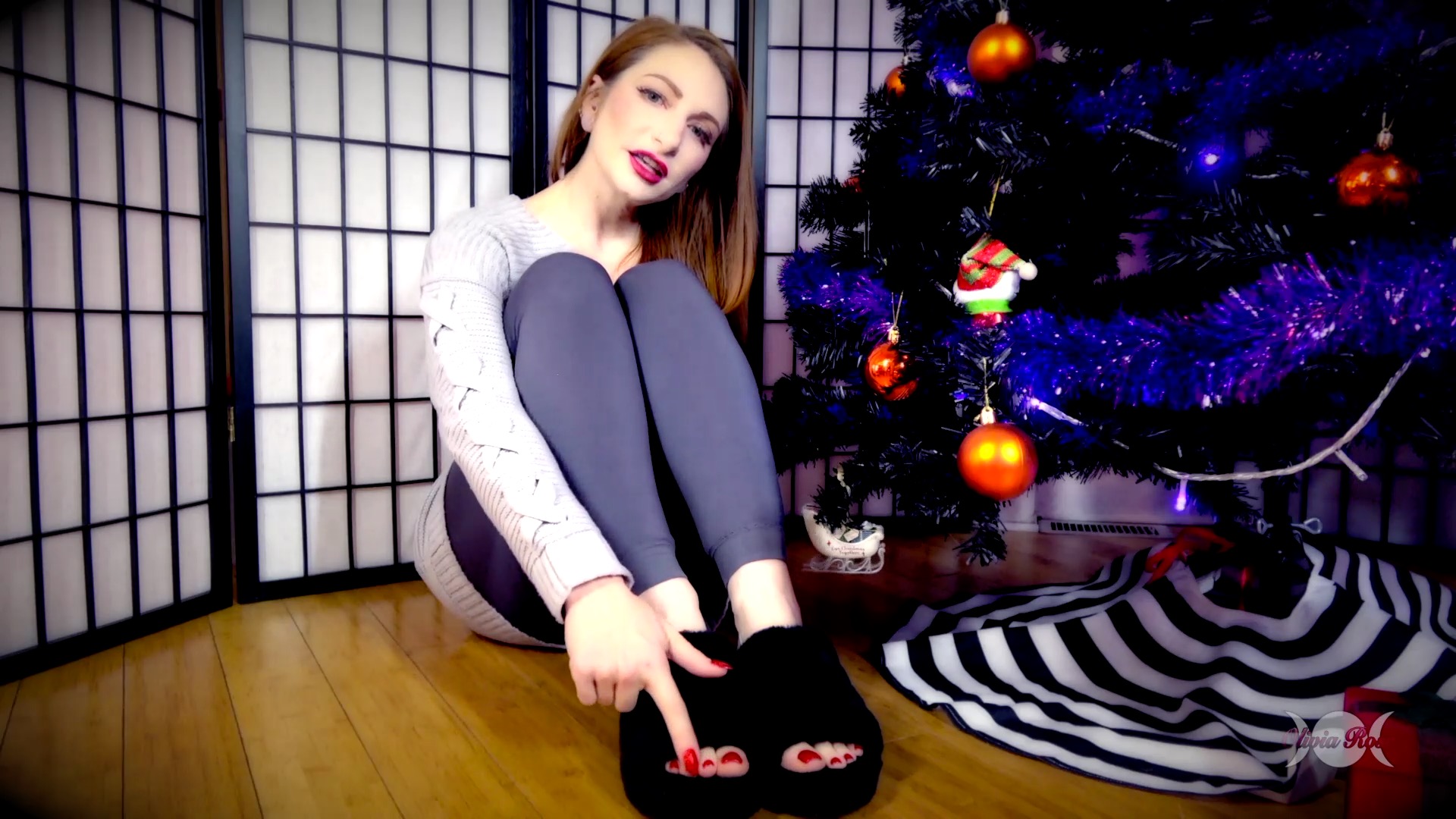 Seasons Greetings, Pets,
Here we are on Christmas Eve! If you celebrate, are you ready? I am not sure I am. I still have a ton more cookies to bake, a pie, some sides for my family dinner tomorrow, and several gifts to wrap. I will get it done, I hope!
I have one more special FemDom Christmas update coming out tomorrow and a whole series of "New Years New You" clips coming out next week. Do you have any goals for the New Year? Any new hopes and aspirations? I am going to make this next year my best year yet!
Starting in January, I will be traveling more and filming more with other people! I have a few shoots scheduled during AVN, and it was just confirmed that I will be at Clips4Sale's AVN booth! If you haven't met me and want the experience of an adult convention and all the wild shenanigans that go with it, I highly suggest taking a trip to Vegas! Want a custom with another performer that's going to the show and me? Just reply to this message and make it happen!
Of course, I am also accepting POV customs as well. Let me know your fantasy and let's make kinky custom magic!
Clips4Sale's still having their "End of The Year Sales Incentive." By using my unique OliviaRoseFetish.com URL, I get 75% on all sales, and as a special promotion, if you buy through my link, I will be entering you into a raffle for a free POV custom video! All you have to do is email me proof that you purchased using the link. One video is equal to one raffle ticket! I don't usually do specials, so get on it while the incentive lasts!
Below I have all my videos from the previous week. Feel free to browse and use my link! There's something for everyone.
Well, It's now time I make all those cookies and finish wrapping these presents. Happy Holidays to all that celebrate them! Until next week!
Warm Regards and Kinky Dreams,
Olivia Rose
Self Suck Cock Slut Instructional
You have always had an obsession with sucking your own dick. I know your kind, the kind that tries whenever he gets a chance, whether it's on your back with your legs over your head, or getting your head down to maybe even touch your tongue to your dick.

I want you to get into position for me. I am going to instruct you to suck yourself off like a good slut and imagine having a huge cock in your mouth while you do. I mean, this is so gay, right? Wanting to take your cum, to suck cock like a f*g. Cause that is exactly what you are, and we all know it.
Length: 11 minutes
Price: $11.99
Available now on OliviaRoseFetich.com and IWantOliviaRose.com
New Slippers For Christmas Feet
I found a wonderful present under my Christmas tree this year, a brand new pair of fuzzy Ugg slippers! This soft wool slippers are sure to not only make my cute size 7 feet warm, but have you aching to worship them, and worship them you will!
I am going to tease you with them, make you kiss my red pedicured toes in them, and make you worship them before I dangle them off my high arched feet and allow you to worship my perfect sweaty soles for the privilege of buying me a gift!
Length: 11 Minutes
Price: $11.99
Available now on OliviaRoseFetish.com and IWantOliviaRose.com!
Cloud Addict
I know how addicting it is, just seeing those vape clouds makes you weak and want to jerk off. Thoughts of big white flavorful vape clouds only consume you. Those fluffy clouds are surrounding you, rendering you helpless to their effects on that brain of yours. You're addicted to them, addicted to watching them float from my mouth. I know you want to stroke to them, so stroke you will making you addicted to all my vape smoke with every exhale.
Stroke cloud addict, stroke!
Length: 12 Minutes
Price: $12.99
Available now on OliviaRoseFetish.com and IWantOliviaRose.com!
Eating The Ex For Xmas
My new boyfriend is an absolute gem. He knows what kind of gifts to give me, and he proves his devotion this Christmas with an incredible treat. I am presented with a little box and have no idea what's inside. I shake it a little, and there seems to be something in it making faint noises. What could it be?
I then open it up and find what appears to be a tiny little pudgy man dressed as an elf! It is you, my ex-boyfriend! My new beaux had sent a service after you to find you, shrink you down, and make you the perfect Holiday treat. The best part is, is that whatever they have been feeding you makes you taste like the most magnificent holiday cookies, candies, and treats. With each lick and taste, I get the whole package. I plop you in my mouth to inspect further and roll you around my tongue, making sure not to swallow your mini man goodness. It's just so delightful!
I take you out, but I eventually can't wait any longer. I have to eat you and feel your tasty goodness in my giantess's belly. I guess I am eating the ex for Xmas, and I wouldn't have it any other way!
Length: 14 Minutes
Price: $14.99
Available now on OliviaRoseFetish.com!
Sissy Rule Reinforcement
***This is a custom video. For your own click HERE!***
Custom Script:
"You will be emasculating and humiliating me for being a baby-dicked sissy and bedwetter. Reinforcing the rules of my sissification while I kneel in the corner immediately following my once a week unlocking from chastity. Wearing a frilly pink sissy dress, pink sissy diapers & plastic panties, sucking on the soaked crotch of the girl's panties, I just made my weekly squirt into in shame.
My shameful sissification rules:
1. Locked in chastity 24/7. Like many sissies, I have been a chronic masturbator since the discovery, and cannot be trusted to not play with my little sissy peepee, and deserve to have it taken away and locked in a pink chastity prison.
2. Whenever at home, I must be wearing frilly pink sissy panties.
3. Nightly 9 PM diaper time. At nine each night, I am to be fully dressed, sissy diapered, plugged, kneeling in the corner for 10 minutes while thinking about what a sissy I am and that I deserve to be in sissy dresses and diapers. I am to sleep in my diapers. If I am not wet when I wake up, I am to consciously wet before kneeling in the corner for 10 minutes in my wet sissy diapers and pink plastic panties, in diaper sissy shame, thinking about the fact that I'm a sissy bedwetter. This training ensures that I start every day in sissy shame as I deserve, as well as overtime making my bed wetting entirely uncontrollable.
4. Masturbation – My perpetual chastity replaces chronic masturbation for self-pleasure with weekly sissy wanking for humiliation and reinforcement of what a sissy I am and why I belong in chastity and sissy diapers. After squirting up in shame into the crotch of a girls panties, I have to take them in my mouth while I lock my little peepee back into chastity and pull up my diapers and plastic panties and suck on them while kneeling in the corner in shame (going forward while listening to You)
5. Punishment. Breaking any above rules will result in a spanking. The following diaper time, sissy must go to the basement, pull my diapers and plastic panties down, and bend over the chair for a bare bottom paddling from the spanking machine. I understand that diaper sissies need and deserve to be spanked for real when naughty, and I am not to end my spankings like I usually do, but submit to being spanked until I am truly sorry and regretful for breaking a rule."
Length: 14 Minutes
Price: $14.99
Available now on OliviaRoseFetish.com and IWantOliviaRose.com!