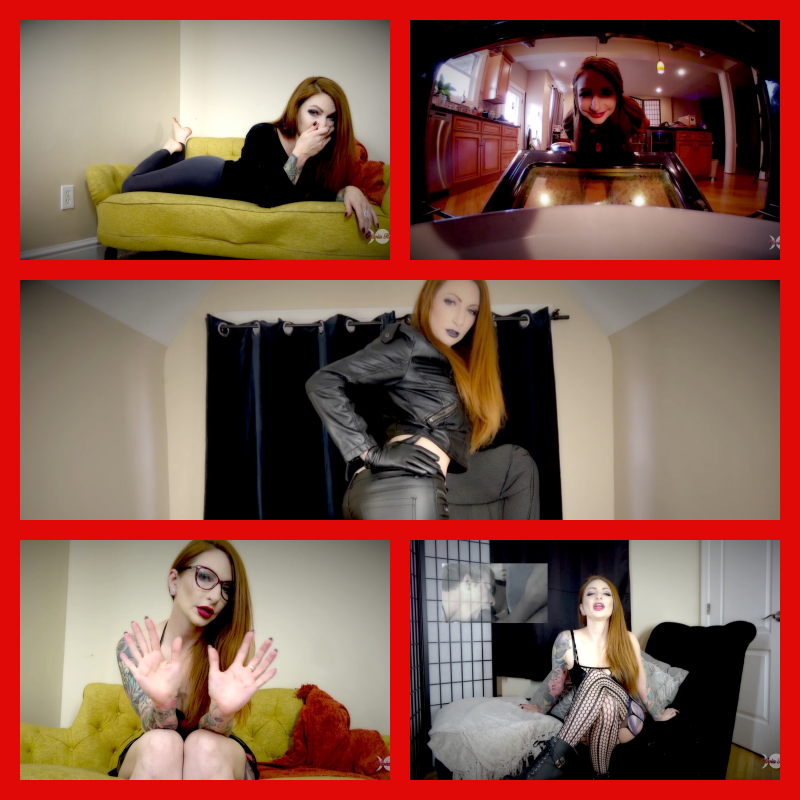 Greetings, Pets,
And just like that, it is the last month of the year! It has flown by, hasn't it? Here we are on the cusp of an entirely new decade! I have lots to look forward to this holiday season, and I have to say I am grateful for all of my good boys here.
I hope everyone had a great holiday weekend for those that are in the US. My cheesecake came out wonderfully. It was so good I had to send it to my partner's office lest I eat the whole thing. I am trying to decide on what kind I will make for Christmas.
Speaking of Christmas and the end of the year, it looks like Clips4Sale is doing another sales Incentive from now until January 31st, which means I get 75% of all sales generated with my special link! Lucky for you all, I pointed my store directly to it, so it's easy for you all to remember! Go ahead and program OliviaRoseFetish.com directly into your browser and bookmark it! As a special thanks to you all, for every purchase you make with my direct link, I will be entering you into a special raffle for a free 10 min custom video! That's right, I am feeling extremely generous this holiday season and want to show my appreciation. All you have to do is buy a clip, send me proof of purchase, and you will be entered in for every clip you buy. You must use this link, though! I will pull the random winner live on my twitter the first of February, so follow me there!
If you don't want to wait and take your chances on winning your very own custom video, I am taking requests right now for solo POV videos. I am also booking customs for AVN. Just reply to this message and let's make some magic!
Below are all of my new videos for the week. There is sure to be something for everyone. Or, make me proud and collect them all!
Well, that's about it for this week. Till next time!
Warm Regards and Kinky Dreams,
Olivia Rose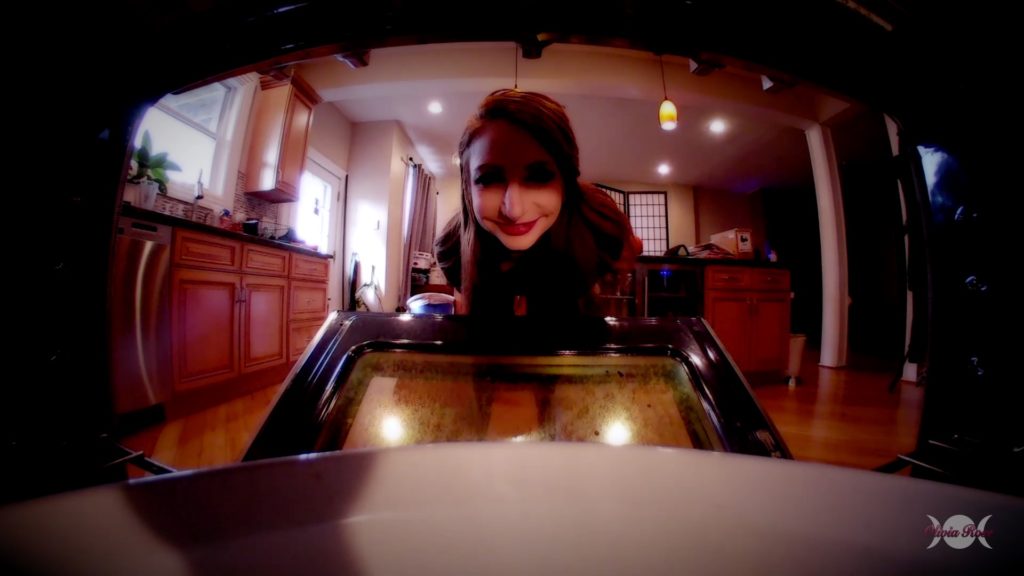 "Thanksgiving Man Turkey"
I can't wait for you to be cooked through. This year at Thanksgiving, since I am eating for one, I decided to eat my absolute favorite Thanksgiving dish, Mini Man Turkey! You were locally sourced, and I even used my grandmother's secret man meat recipe to season you just right.
When I pull you out of the oven, your skin is cooked to a decent crisp, just the way I like it. I want to make sure you're still alive when I swallow you whole. No need to crunch you up in my mouth when my stomach can do all the work for me! Boy, am I famished, too! I have been waiting all day to eat you up! I go in for a few licks, but I can't contain my hunger. I lower you into my mouth and swallow you whole, the last light you see is that of my tongue, epiglottis, and the opening of my esophagus. Happy Voresgiving to me!
Price: $9.99
Length: 9 minutes 
Purchase Now On OLIVIAROSEFETISH.COM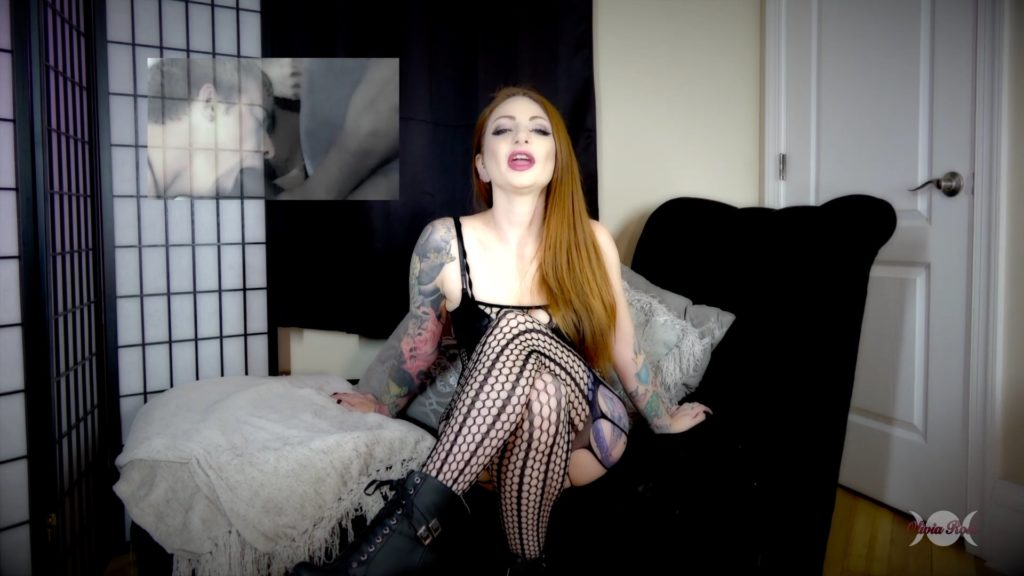 "BBC For Black Friday"
Most men are sitting around watching sports, but not you. You're at home, scrolling Grindr while your unsuspecting wife is out shopping all the Black Friday sale. Of course, you have something big and black in mind, but not that, no. You have been thinking about the BBC this whole holiday. You're thinking of how great it would be to find a big black cock, get down on your knees, and suck it like a dirty little faggot. I am going to give you the gift of courage to finally connect with those big black cocks and live your gay dreams this holiday season!
Imagine you just taking two at a time, a BBC in each hand, how good it will be to get double stuffed, to be filled up from both ends like the whore for black cock that you are. You want to get pounded like a dirty little slut, and you should! So get out your phone, get on Grindr and finally get that BBC that you so desperately crave!
Price: $11.99
Length: 11 minutes 
Buy now on OLIVIAROSEFETISH.COM or IWANTOLIVIAROSE.COM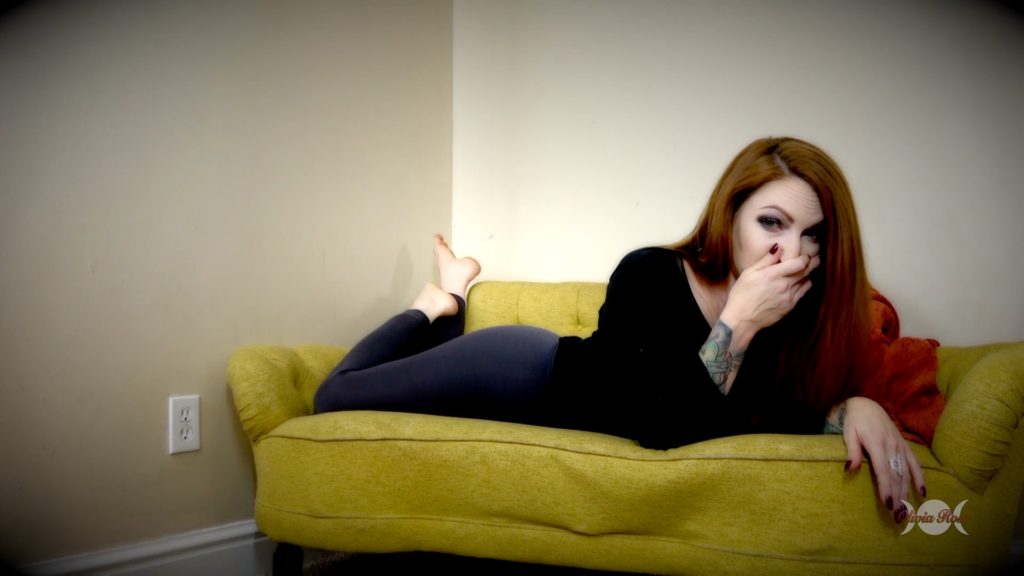 "Thanksgiving Leftovers"
Thanksgiving Leftovers. They're almost as much of a tradition as Thanksgiving itself. I had a wonderful Thanksgiving, but there was one problem. I ate way too much on holiday and too many leftovers. I was so bloated and full of gas I had just to let it all out and let it all out I did. I farted up a storm and couldn't help it! All of those helpings of mashed potatoes, green bean casserole, sweet potatoes, and the famous turkey made my stomach go for a ride, a ride of blasting, and major flatulence. I tried holding it in for my family's sake, but after day two, I had to go lay down on my spare rooms couch and just let it all out!
At first, I thought it was just the case of the rumbles from the turkey burrito I made the day after, but no letting out all those farts only calmed the upcoming storm for so long, and I eventually just had to go!
Price: $10.99
Length: 10 minutes 
Purchase Now on OLIVIAROSEFETISH.COM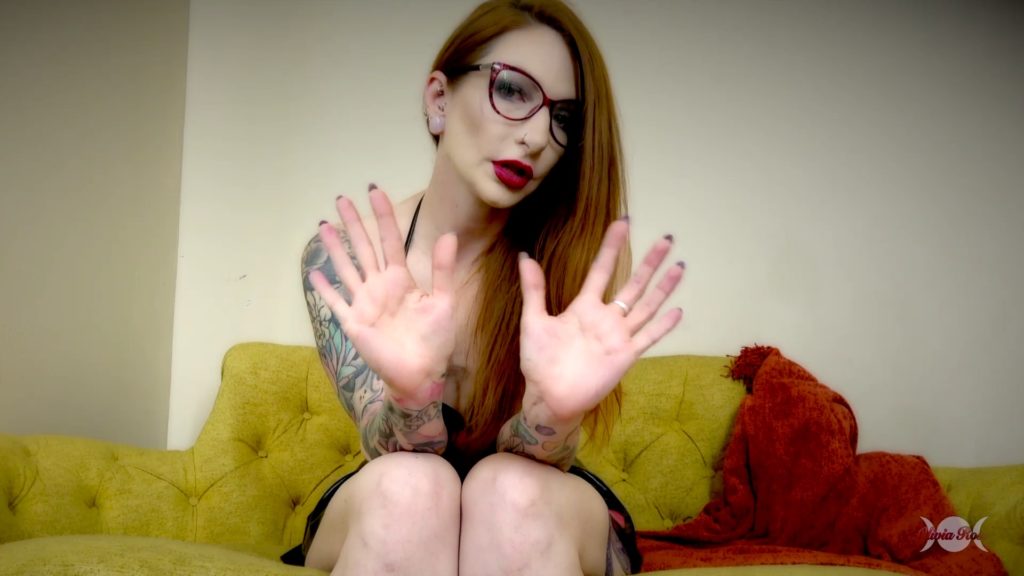 "The Start-Up Induction II"
***This is a custom video. For your own fill out my form HERE***
Custom Script:
"Hi Goddess, I'd like to request a follow-up to our last custom where you played a woman who mesmerized and offed her college's dean because he interrupted her brainwashing a recruiter. It would be great if you could please wear the outfit from "meant to be my toiler" including glasses and have your feet soft and smooth and in flats to begin with. It would also be great if you could re-read the last request for stylistic details around how you act and mesmerize. But at a high-level, you are a devious and covert mind control enthusiast. Playing innocent, but letting out your bratty and evil side as you subdue your victim. Two cops have come to investigate the casualty of the dean. A man and a woman. You play innocent and the man walks upstairs to search around while the woman stays with you. The problem is you have the recruiter tied up and mesmerized for mind control upstairs. So you mesmerize the woman slowly and covertly with the power of your voice and moving your hands. (Palms facing out, more hand than finger motions vs. last time.) You talk about your power over others and how you mesmerize. And you admit what will be found upstairs. You determine the cop is straight but mind controls her into lesbian love with you and convinces her she must go upstairs and off her partner to keep you safe. Please describe how in detail, using her tazer and her hands on his neck so there's no mess…"
Price: $21.99
Length: 21 minutes
Purchase Now from OLIVIAROSEFETISH.COM or IWANTOLIVIAROSE.COM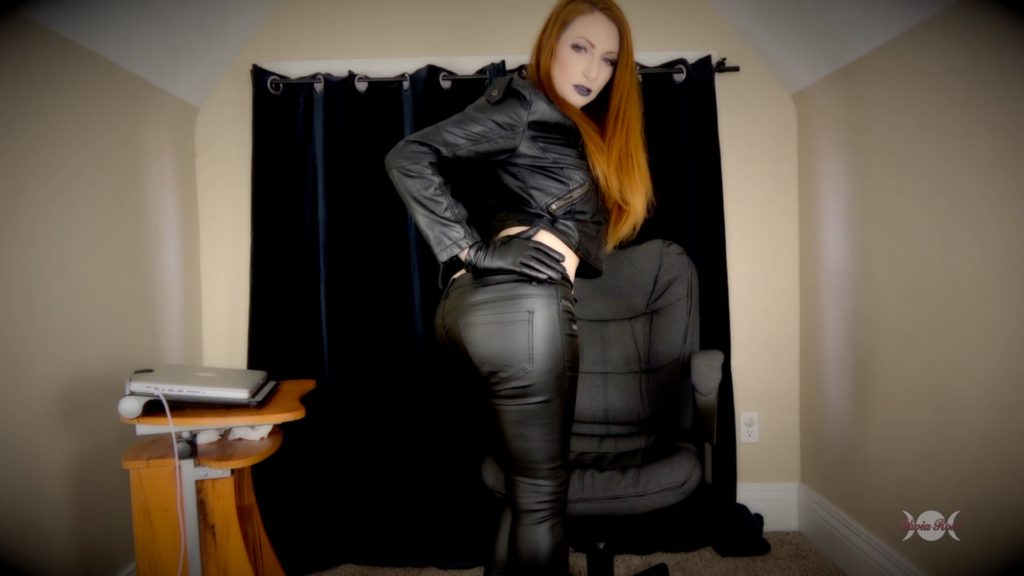 "Leather Client's Metronomic Training"
***This is a custom video. For your own fill out my form HERE!***
Custom Script:
"Dressed in your leather clothing like how I like it, but black bra under it, leather gloves, choker with makeup and black lipstick. You are going to meet your client again to help him with his leather problem, and you are discussing with Master Jason on your office chair and laptop on your desk how he wants you to deal with him. He sends you a video link, and you click it through your email and lock it at its full screen. (Watch this video [metronome video] "A metronome is this your new fetish Master Jason? Ok, I'll be happy to indulge in your new fetish." You watch the video and follow the movement of the metronome arm with your eyes back and forth for about 2 min. After 1 min of your eyes following the metronome, you start to say this in a robotic tone while your eyes still pursuing the movement. Yes, Master, Jason, I will do whatever. You want, me too, do, what is, your wish). Snap! Your head goes down, but the ticking sound is still on. Snap! You are snapped into a trance and look at the video playing. "Yes, Master Jason, I am now your metronome doll. I will follow the sound of the metronome in my mind and use that to train your new henchmen." "You want me to show you a demonstration? Yes, as you wish, master Jason." You pause the video and play this [metronome video], and you stand up and dance to the tone (mindless expression) of the footage swaying your hips back and forth in a sexy way for 1 min (turn around sometimes and put your arms in the air when you dance). You pause the video and say, "Yes, Master Jason, I will prepare for his arrival." You close the laptop and turn around to face the camera while sitting on your chair, cross-legged. Ten seconds later, he enters, and you let an evil grin off your face. "Oh, welcome, your back for our training session. Today we will be doing something a little different, and trust me. You will enjoy it soon. You will cum, and you will get over your leather addiction very soon, but first, I'm gonna test your cock." You start to pose sexy on your office chair (do six poses on the chair 10 seconds each in the order I've sent you). "Hmm, very good I see no bulge on your pants this time(clap your hands), but can you endure this?" You stand up and dance sexy for 30 seconds (the same hot music in the previous video). Impressive I see our last training sessions have paid off, but can you endure our prior challenge?" You open and turn your laptop to face him, and you play [metronome video] and start dancing to the beat of the metronome hands on your hips while you encourage him to resist you and not get hard for 1 minute. "Ha, I knew you couldn't resist oh well since your hard you might as well take your cock out and start stroking now!" You continue to dance to the beat hands in the air while you encourage him to jerk off to the sound of the beat for 1 minute(unzip your jacket in the middle). "Umm, about to cum, aren't you ill help you out." Shake your ass on his cock and stroke it (Dildo) while your body sways according to the beat of the metronome for the last min until he cums and orgasm when he cums. "Oh, wow, good job, but you're still not ready yet come back again tomorrow for another session ill be waiting." You wink and give a blowing kiss, and the video ends."
Price: $15.99
Length: 15 minutes 
Buy Now on OLIVIAROSEFETISH.COM